When we were "up north" for Memorial Day, a bog-walking program complete with a "roving naturalist" and a pancake breakfast at the dining hall enticed us to spend a Sunday at Lake Bemidji State Park. We had been to this park once before, five years ago, but I had forgotten how neat it is.
A bog is a fragile ecosystem, and this sign warns people to stay on the boardwalk to not hurt the plants.
The boardwalk is only a quarter-mile long, but it seems much longer – probably because there is so much to see along the way that it's a pretty slow journey. There are helpful signs along the way:
Many plants thrive in this bog environment:
At the end of the boardwalk is Big Bog Lake. We even saw a loon! (But it's not that dot in this photo.)
The rest of the park was nice, too – on paved paths…
…and on unpaved paths.
Hey! A Minnesota state park with signs that identify where you are! (See the "N" at the top, which corresponds to a spot on the map.) This works much better than an unlabeled sign with a sticker marking the spot on the map – I've seen so many of those that have had their stickers removed. Now, if they would add signs along the trail crossings that confirm which direction you're heading, like Lebanon Hills does, it would be practically perfect.
Lots of interpretative signs in this part of the park, too, though they could use an upgrade. Did you know that earthworms are an invasive species that is hurting our hardwood forests? Counterintuitive, isn't it? But true. Don't dump your leftover bait, anywhere!
Such a great touch: the wildflower signs include both English and Ojibwe names.
I don't often see starflowers in our neck of the woods:
We admired the Works Progress Administration buildings, like the dining hall…
…where we were served pancakes and sausages and teeny glasses of orange juice.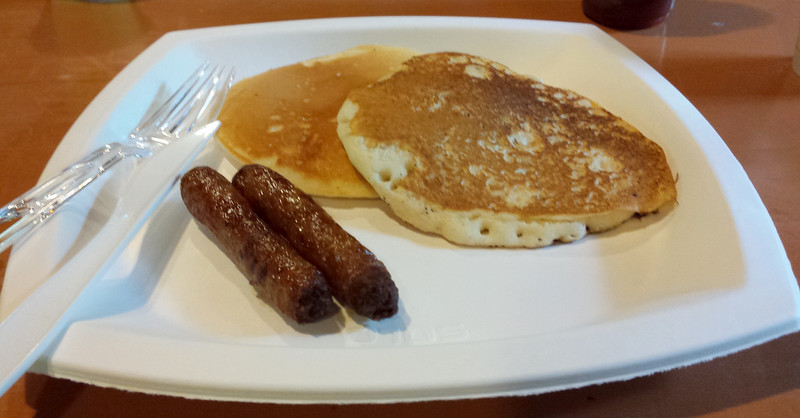 We also saw Lake Bemidji, naturally:
And signs along the entrance road ask motorists to be careful because baby foxes are in the area:
After this fun visit, I added this park to my top five favorites of all the Minnesota state parks I've seen so far.
More
Date visited: May 29, 2016